CarbyneStackCon '22¶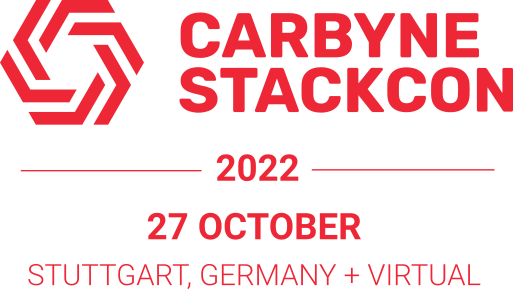 The Carbyne Stack Conference (or CarbyneStackCon) is the annual meetup of the Carbyne Stack Open Source Community. It is designed to foster collaboration, discussion and knowledge sharing within the Carbyne Stack community.
Registration¶
CarbyneStackCon '22 (CSC22) is an open event sponsored by Bosch Research. Everyone interested is welcome to attend! However, seats for in-person participation are limited and registration is required in order to facilitate our planning.
Programme¶
We are in the process of putting together an exciting and fun program for CarbyneStackCon '22. See below for the current draft. Stay tuned for further updates. Note that all times are Central European Summer Time (CEST).
Time
Agenda Item
8:00 am
Registration
9:00 am
Opening
9:15 am
Keynote
Secure multi-party computation. When? Which kind? For whom?
Dr. Dan Bogdanov (Chief Science Officer at Cybernetica, Board Member at the MPC Alliance)
9:45 am
Keynote
One year of Carbyne Stack - Retrospective and Outlook
Dr. Sven Trieflinger (Senior Research Project Manager and Carbyne Stack Maintainer at Bosch Research)
10:15 am
Coffee break and group photo
10:45 am
Industry Talk
Privacy-preserving Cross-company Data Collaborations
Dr. Jonas Böhler (Senior Researcher at SAP Security Research)
11:15 am
Industry Talk
Multi-cloud multi-party computation for multiple data providers
Dr.-Ing. Kalman Graffi (Principal Scientist at Honda Research Institute Europe)
11:45 am
Community awards and announcements
12:00 am
Lunch
1:00 pm
Hands-on Session
Vision, Mission, Roadmap for Carbyne Stack
2:30 pm
Coffee break
3:00 pm
Research Talk
Cost-effective MPC from an offline phase with low communication
Vincent Rieder (PhD Candidate at Bosch Research)
3:30 pm
Research Talk
Secrecy: Secure collaborative analytics in untrusted clouds
Dr. John Liagouris (Assistant Professor at Boston University)
4:00 pm
Research Talk
Generalized Tuples for MP-SPDZ (working title)
Dr. Pascal Reisert (Postdoctoral Researcher at Institute of Information Security, University of Stuttgart)
4:30 pm
Coffee break
5:00 pm
Hands-on Session
Carbyne Stack Open Source Community Vision
6:00 pm
Closing and feedback
from 6:30 pm
Dinner (see below)
Venue Information¶
Stuttgart Connectory - Internet of Things (IoT) co-creation space in the heart of Stuttgart.

---

Address

Königstraße 78, 1st Floor
70173 Stuttgart
Getting There¶
The Connectory is located in the heart of Stuttgart's city center (see Google Maps). The easiest way to get there is by public transport: train station Stadtmitte and subway station Rotebühlplatz are right around the corner.
Dinner¶
Dinner is complimentary and served just 200 meters from the Connectory at
Sophie's Brauhaus
Marienstraße 29
70178 Stuttgart
(see Google Maps)